Hello Furdiburbians!
It's your favorite virtual pet here! We've been working on improving our game. The update contains: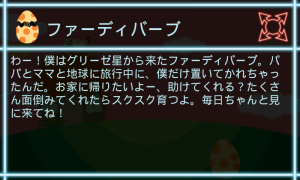 Japanese Translation – If you can choose Japanese in your language setting, you can practice reading Japanese! Otherwise, we think this app would be great in Japan, given that Tamagotchi originated from there and all.
New Dialog Boxes – We know, it's annoying to buy one item at a time, then leaving and re-entering a store in order to buy one more. With our new lazer-themed dialogue boxes, you can now buy multiples! Check it out!
The Factory – oh no! You place something into the tubes by accident. Not to worry – with this update, simply leave the scene by traveling or exiting the app, and the item will appear on the ground when you return.
New Mutations – Crabidab has a new shipment of mutations for the eyes and the antenna.
New Houses and Furniture – The Brothers of Bagua have an Icy house and humble log cabin.
Bug Fixes – Thanks for reporting them bugs!


Stay tuned for more updates!